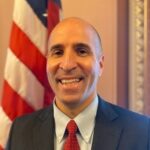 Senior Director for Resilience
White House National Security Council
Jason Tama is the Senior Director for Resilience at the National Security Council (NSC). In this role, Jason oversees national policy in a number of areas including critical infrastructure security and resilience, domestic preparedness and incident response, supply chain resilience, disaster recovery and hazard mitigation, and Federal mission resilience. During his time at the NSC, Jason has played a key leadership role in the domestic response to multiple crises, including major hurricanes and wildfires, cyber-attacks, and Russia's invasion of Ukraine. Jason is detailed to the NSC from the U. S. Coast Guard, where he most recently served as the Captain of the Port of New York and New Jersey. He holds a Bachelor of Science in Mechanical Engineering from the United States Coast Guard Academy, a Master of Engineering from the University of California, Berkeley, and a Master of Business Administration from the MIT Sloan School of Management. He is an MIT Sloan Fellow, Brookings Institution Federal Executive Fellow, and Marshall Memorial Fellow.